Product Category:

Wet & Forget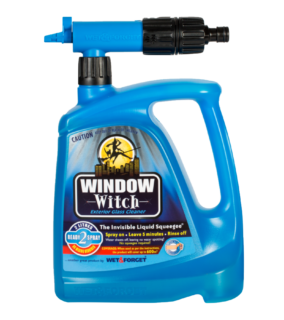 Window Witch
Window Witch is a ready-to-use exterior glass and window cleaner that uses a combination of smart surfactants to sheet water and product from the glass, eliminating the need for squeegeeing.

Window Witch works by using a combination of smart surfactants and citrate water softeners to dissolve grime and sheet water from the glass, leaving no water spotting or streaking behind. The effectiveness of Window Witch can be enhanced by using a microfibre pad to gently agitate grime and dirt from the surface before rinsing off with water.


Categories:
Available Sizes:
2 litre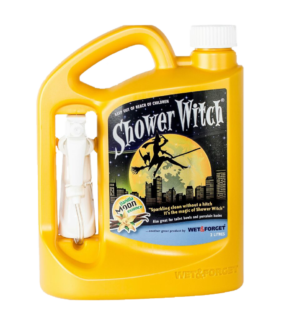 Shower Witch
Shower Witch is a gentle, easy to use, bleach free shower cleaner that is perfect for removing soap scum and grime from your shower. It is also great as a general bathroom cleaner.

Shower Witch works by using non-ionic and cationic surfactants, a combination of biodegradable detergents to break down soap scum build up on bathroom surfaces. Shower Witch needs to be applied to a wet surface, such as after showering, left overnight, and rinsed off the next day. Shower Witch will give you the best results if used on a weekly basis.


Categories:
More Information:
Available Sizes:
2 litre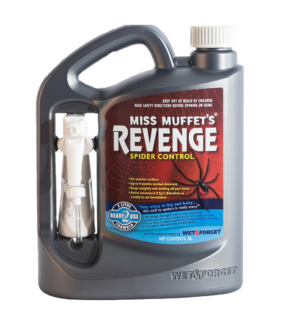 Miss Muffet's Revenge Spider Repellant
Miss Muffet's Revenge is a fast-acting exterior spider repellent that helps guard your home from creepy crawlies for up to 9 months. Spiders are good for the environment as they help control unwanted insects, however we don't always want them in or around our homes. Miss Muffet's Revenge creates an impassable barrier to stop spiders in their tracks.

Miss Muffet's Revenge uses an innovative sprayer designed to deliver more product than the average sprayer so that you can treat areas quicker and easier. Use it to lay a barrier around exterior access points where spiders are likely to get into your home, it will instantly repel them. Avoid spraying directly onto spiders, however it can be used on their webs.
Categories:
More Information:
Available Sizes:
2 litre