Product Category:

Stormseal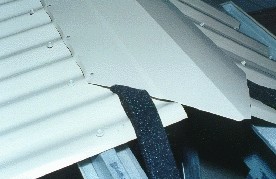 RFS Stormseal
RFS Stormseal has been designed to seal valleys and perimeters of Australian roof tiles, as well as the entire perimeter of steel roofs. RFS Stormseal can form an effective seal against birds and rodents, wind driven rain and dust.
RFS Stormseal has also been fire tested and is an effective barrier against bushfires when used to seal perimeter rooflines.
RFS Stormseal is made from Polyurethane foam impregnated with bitumen emulsion (water based) and is flame resistant.


The colour is Dark Charcoal and is sold in 2m lengths individually or as a carton (54 x 2m lengths).
Categories:
More Information: